SAFETY SWITCH WITH GUARD LOCKING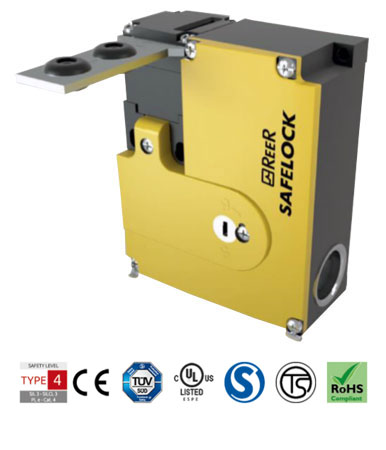 Safelock is a safety switch utilised in the protection of personnel when opening doors leading to dangerous areas.
It acts by monitoring and interrupting the safety circuit during dangerous scenarios. The solenoid locks and unlocks access to the dangerous area, guaranteeing safety until the danger has stopped.

Available models:
SLK-M
• Retention mechanism actuated by a spring and unlocked by ON current.
• Guard locking by spring force, release by applying voltage to the guard locking solenold
SLK-E
• Retention mechanism actuated by ON current and unlocked by spring.
• Guard locking by applying voltage to the guard locking solenoid, release by spring force
3 different safety functions according to the standard EN ISO 13489-1
Cat.1/PL c
1 Safelock + 1 safety relay AD SRE3C or 1 input of the Mosiac safety controller

Cat. 3/PL d
1 Safelock + safety relay AD SRE3C or 2 inputs of the Mosiac safety controller + fault exclusion according to the standard (EN ISO 13849-2)
1. Safelock + 2 Magnus RFID + safety AD SR 1 or 2 inputs of the Mosiac safety controller
2 Safelock + 1 safety relay AD SRE3C or 2 inputs of the mosiac safety controller

Cat. 4/PL e
2 Safelock + 2 safety relay AD SRE4C or 4 inputs of the Mosiac safety controller
Read more products :