We are Authorized Channel Partners, Distributor, Dealer, Importer for REER Safety Interfaces, Safety Speed Monitoring Interfaces from Pune, Maharashtra, India.
Safety Speed Monitoring Interface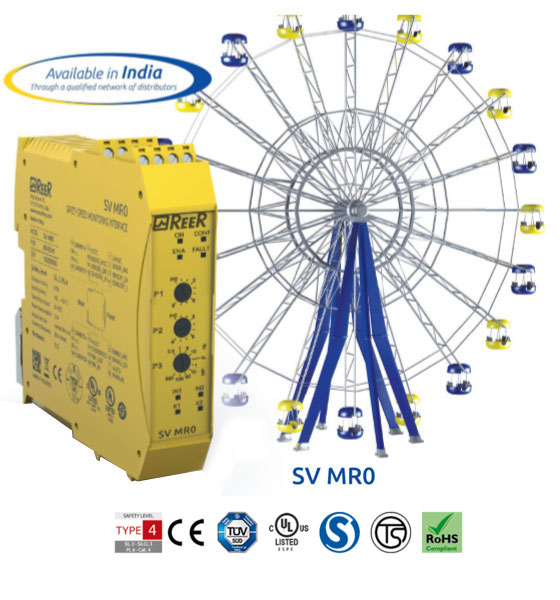 Controls Zero, Minimum or Maximum Speed

Safety speed monitoring interfaces. Safety level up to PL e - SIL 3.
SV MR0 - Safety speed monitoring relay for Overspeed and Zero speed control.
SV MR0 U - Safety speed monitoring relay for Underspeed control.
Both modules integrate:
• Manual or Automatic restart selectable.
• EDM feedback input for external contactors monitoring.
• Enable inputs used, for instance, when monitoring the same axis, in different working phases, with more SV MR0 configured with different thresholds.
• Faults signalled by LED "Fault" and a PNP system status output.
• PNP status output indicating overspeed or underspeed thresholds crossing.
• Both modules have 2 inputs for PNP proximities switches.

P1 and P2 selectors allow to set numeric values from 01 to 99. P2 selector allows to set a multiplier to apply to the numeric value obtained with the first two. The multiplier can be set in "Hz" or in "rpm" (round per minute).
Note : Only when the proximities switches sensor show a single pulse per turn, the value in "rpm" corresponds to the value in "ipm" (pulse per minute).

Safety Speed Monitoring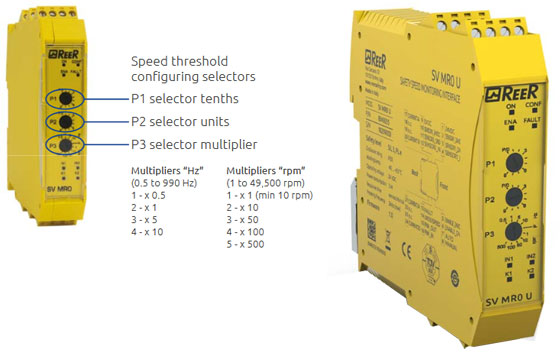 Read more products :